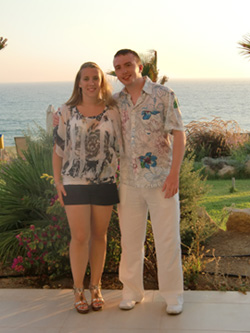 Hi I'm Adam, I'm 26 year old from Pontefract, West Yorkshire. Im currently working at Learner Driving Centres as a Web Designer and Programmer and my programming skills include PHP(OOP), MySQL, HTML/HTML5, CSS/CSS3, XML, Javascript, jQuery, Wordpress and have also just begun learning Ruby on Rails and the Zend Framework to try and expand my knowledge further, every so often I am involved in the design of websites but my main area is of the backend programming. I have built verious different content management systems (CMS) and E-commerce solutions for a range of different projects all coded from scratch using PHP. In the past I have work for both the NHS Yorkshire and the Humber and the University of Huddersfield on a number of website projects in the heathcare sector, and also do freelance work every now and then for a range of different clients.
I am lucky enough to have comleted a BA (Hons) Degree in Interactive Multimedia at Hudderfield University in 2008, the course everything from Web Programming, Visual Design, 3D and Video, Businness Enterprise and much more, I evetually came out of the course with a 2.1 Grade and am using the skills and knowledge that I was taught at University on a daily basis in my work as it was here I origanally learnt about PHP which is now my programming language of choice for most of the projects I undertake.
I am currently living with my girlfriend of 6 years Sarah in market town and home to the Haribo sweet factory, Pontefract, West Yorkshire. In my spare time like to try and be as active as possible going for a run around Pontefract racecourse whenever I can and play football at least once or twice a week with friends. Every now and then I like to take on some freelance work to try and maintain and built upon my knowledge of the web and surround areas.
My Skills
I am proficient in a range of different programming languages and using various software packages, below you can find a breakdown of my skills:
PHP

PHP tends to be my programming language of choice, most projects I undertake use it and I am prgramming using it on an almost daily basis to achieve some powerful results. I have been using PHP for over 7 years now on most of my projects and have even built my own CMS and E-commerce sites using it. You will see if you view almost of the websites from my portfolio that all of the websites use it in some form or another. In the past I have worked on projects which have used the PHP MVC Frameworks Zend and have had experience with the Smarty template engine in order to create powerful web applications using PHP.

HTML / HTML5 / XHTML

I originally became intereseted in the web over 10 years ago when I was 15 and built my first website with HTML, I'd like to think I've come along was since, and now knowing a lot more about web standards and how to use the code effectively since then. I now work to try and make all my website XHTML Strict compliant but have recently built my first website in HTML5.

CSS / CSS3

I originally started off like many other in the web industry by using very little CSS and simply using tables and images for layout but was introduced to CSS in my first year of university where all my CSS programming was done in notepad which I think helped learn and take in more about CSS. I now use a lot of CSS3 features on a regular basis and try to use CSS in the most efficient way possible building my sites with images sprites wherever possible.

MySQL

MySQL forms a large part of my job, almost all of the websites I have built have been database driven in some way or another, whether it is part of the shopping cart or simply storing the page content to be altered in a admin panel. I originally learnt MySQL in conjuction with PHP and have been using the two side by side ever since.

E-commerce

I have built a number of differenct e-commerce solutions from scratch to suite the differing needs of the clients for various websites in the past and have experience with SagePay, PayPal, Google Checkout/Wallet, 2Checkout and MoneyBookers payment modules.

XML

XML is used extensively in many of my websites in things such as Sitemaps, Google Products data feed, Google Maps data and parsing data to various applications to show data and statistics. While it is one of the simplest languages it is one of the most useful when completing certain tasks.

Javacript/jQuery

Some of the first sites I built used javascript for their functionality, but have only recently within the past 3-4 years started to use the jQuery Library and discovered how powerful and useful javascript can be at adding fuctionality and interation on the page. I have use various scripts that use the jQuery such as a number of different Lightbox galleries, FullCalendar, Cufon, Parallax, EasySlider, etc, I also occationally write my own code to work off of the jQuery library.

Design

Over the last few of years I've tried to spent more time learning about new design techniques and tips that will improve my design skills for the websites I produce. Design is now a much bigger part of my current role and in my opinion I've come on leaps and bound from where my design skills were just a couple of years ago. Most of my designs now use the latest CSS3 for cetain features and also include sprites for optimum load time of the websites.

Wordpress / CMS

While I normally like to code all of my websites from scratch to fit the purpose as closely as posssible sometimes the timescale is just not flexible enough in the past I have created designs for the Wordpress Platform but in the past have also had some experience using Magento.

Ruby on rails

As a newbie to rails I'm finding it pretty similar to a range of other programming languages im familiar with, while I've only been learning rails for just over a month I havn't felt confident to start any new project with my new found knowledge of rails just yet.
While the list above covers most of the software and programming I use on a regular basis I am capable of using other packages such as the Microsoft Office Suite including Access, Excel, Word aswell as various alternatives to those listed.